Free IT Training in association with HP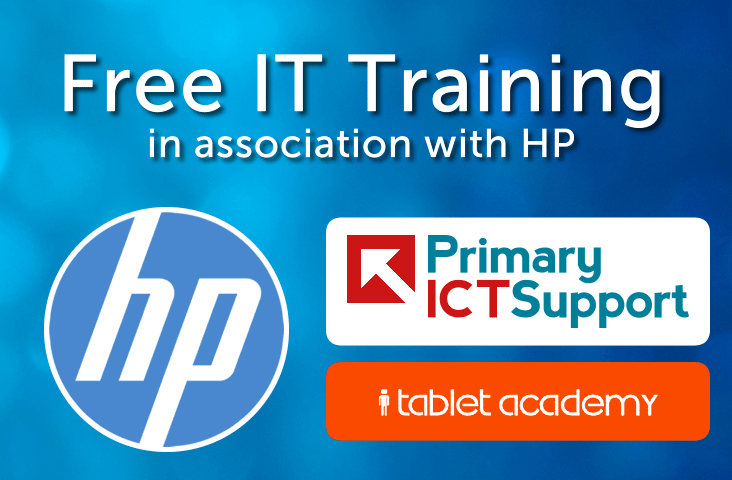 Would you like a free gift from Tablet Academy worth up to £1000?
Choose between:
1 Years free access to the new Tablet Academy Online Training Platform
Or
Free Teacher Training / Student Enrichment Workshop (Half-day)
Thanks to HP for Education we are delighted to offer all schools a free gift worth a minimum of £500. No strings attached. All you need to do to claim your free reward is complete the form at the link below
What's the Catch?
There's no catch. This offer is made possible thanks to HP for Education who are celebrating the re-launch of www.hpfe.com , a Trade In program designed to give Trade In rewards to Educational Establishments, connecting registered users with HP Preferred Resellers and HP Training Partners to offer products and services at a reduced rate.
Your free reward is simply a way of HP saying Thank You for signing up. You don't have to trade in or purchase any technology in order to claim this reward. This will not cost any money or commitment from your organisation.
The number of rewards are limited and will be allocated on a first come basis.
The Reward
Tablet Academy are offering a choice of two awards
1. The Online Training Platform is normally charged at £500 per Primary and £1000 per Secondary. Further details are available here http://tablet-academy.com/transform-teaching-and-learning/
2. A free Teacher Training or Student Enrichment Workshop worth £500. The reward can also be used towards any purchase of a higher value service (e.g. Support Package).
The Process
Once you've completed the form at the link above you will receive an email within 24 hours (please check junk folders) to confirm that you wish to register on HP for Education.
On receipt of the confirmation, your chosen reseller will send you your Personalised Showcase via email. Simply select the Tablet Academy offer and copy your unique promo code.
Follow the instructions and visit the final link where you will be required to provide the following details:
Name
Organisation Full Registered Address
Authorised Primary Contact
Organisation Bank Details
(This is not used to process any payments, it is required for HP to pay funds into your bank if you choose to Trade In technology in the future. You do not have to trade in any technology to claim your reward).
Once this process is complete Tablet Academy will receive details of your reward allocation. We will then make contact with you to arrange delivery of your free reward.
Questions
If you have any questions please don't hesitate to call 0113 426 4264 or email sales@primaryictsupport.co.uk
Customer Feedback

2022-05-17 15:10:00

Very quick fix to a lost file problem - thanks!
2022-05-17 11:21:11

1st ticket that I've submitted, was managed quickly & efficiently, plus demonstrated a good understanding of the issue and offered additional suggestion to identify redundant users to reduce licenses and therefore cost.
2022-05-17 11:16:17

Very quick to resolve!
2022-05-12 11:23:51

Thanks - all good now!
2022-05-12 09:57:56

Absolutely brilliant I learned so much in this session. I will let you know if I need any more support
2022-05-11 17:12:50

Absolutely brilliant I learned so much in this session. If I need any more support I
2022-05-11 17:11:19

Friendly and quick, thank you.
2022-05-11 14:00:08

Really helpful thank you
2022-05-10 10:45:49

Very patient with me and great that Matt was available first thing in the morning. Resolve the issue very quickly and updated my laptop. Thank you!
2022-05-09 09:29:53

Technician sorted out my problem while I went on a meeting and left me a note detailing what had happened and how to solve in future :)
2022-05-05 14:37:12

Thank you for quick and helpful response
2022-05-05 10:38:37

Very quick response and problem solved.
2022-05-03 10:40:13

Thanks for attending to this promptly Lee - will stop the intruder alarm going off!
2022-04-29 10:27:02

Quick and problem fixed. Thank you
2022-04-26 09:08:11

Speedy response and problem resolved !!
2022-04-25 12:48:52

Great service. Very quickly resolved.
2022-04-25 08:13:17

Thank you for all your help!
2022-04-22 11:36:48

Great service. Very efficient.
2022-04-22 09:07:16

Great service. Very efficient.
2022-04-21 10:58:04