Spring term update: Connect more tools to Arbor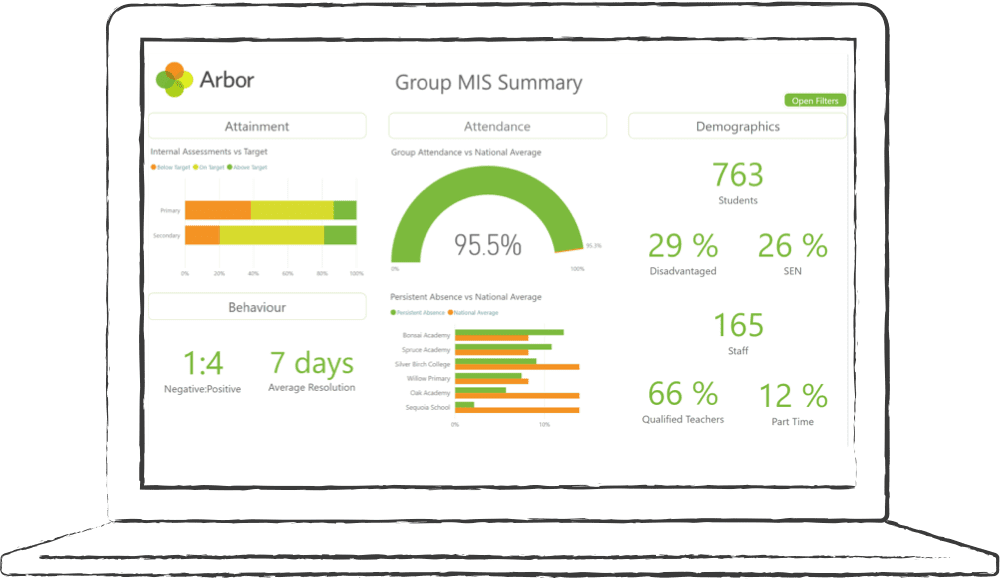 Primary ICT are proud to announce our partnership with Arbor Education for Google Intrgration
Since the pandemic began, schools have had to rapidly change the way they manage their lessons, communications and admin. This has meant using technology in lots of new ways to keep lessons going, and smarter ways of using data to understand students' changing needs.
At Arbor, we've been developing new tools to support leaders and Admin Staff manage the challenges of Covid-19.
Today, we're excited to launch brand new integrations with Google Classroom™ and Microsoft Power BI, designed to help you save time and manage your school data in the ways you need to.
Sync data securely between Arbor and Google Classroom™
As schools have been ramping up their use of digital learning platforms for remote or blended learning, we've built an integration with Google Classroom™. Arbor automatically syncs your student and staff information into Google Classroom™ so you don't have to enter any data manually. What's more, once you're set-up, data syncs every 24 hours, meaning your information is always up-to-date.
We'll also partner you with a Google accredited support team who'll give you tailored support to get your integration set-up. They'll also be your port of call if you need any help along the way.
What does this mean for you?
Save time: Your data syncs automatically to Google Classroom™, saving you hours of manual data entry and updating if your classes change
Future-proof solution: Once set-up, it's easy to return to remote teaching and learning whenever you need to
In-depth support: If you run into any problems with your integration, our trusted Google support partners are on-hand to support you
Coming soon:
We're working on a similar integration with Microsoft Office 365 and are looking for Arbor schools to take part in our free pilot scheme. If you'd like to take part, let us know here.
Check out The Key for School Leaders for some great guidance on getting the most out of a digital learning platform.
Visualise data any way you want to with our Microsoft Power BI Connector
Arbor MIS gives staff at all levels a shared view of progress, with accessible, out-of-the-box dashboards and quick custom reports. But we know that you might sometimes want an even more customised approach to reporting.
That's why we're excited to launch our brand new Microsoft Power BI Connector. The Connector pre-loads your key Arbor data into Power BI, allowing you to visualise it in creative new ways.
We've also created five ready-to-go template dashboards which will save you hours of manual set-up, and allow you to dig into key factors behind your school or MAT's performance. Plus, they're fully customisable, giving you the freedom to present your data how you need to.
What does it mean for you?
Instant data: Your Arbor data is ready-to-go in Microsoft Power BI whenever you need, with no manual export
Save time with our five ready-to-go dashboard templates
Customisation and control: Edit and customise your report templates however you want to
Bring in other data sources: Look at your Arbor data in meaningful contexts e.g. Google Maps, Deprivation index
Find out more about these integrations
Already using Arbor MIS?
Get in touch with your Account Manager to get started with Google Classroom™ or Microsoft Power BI at accountmanagers@arbor-education.com, or come to our webinar at 11am on 11th March to learn more about how our integrations could help you. Book your free spot here.
New to Arbor?
We'd love to show you how Arbor could help you work faster, smarter and collaborate more across your school or MAT. Come along to a free webinar to Arbor MIS in action, or book a free personalised demo here.
Customer Feedback

2023-11-28 13:43:13

Problem Solved :-)
2023-11-22 14:12:31

Gave me a work around which gets me back to outlook functionality :-)
2023-11-17 14:45:49

Great service.
2023-11-17 14:15:20

Thank you for doing this so quickly
2023-11-15 12:45:14

Fast response. Really helpful. Thank you
2023-11-15 10:20:39

Quick service, thank you!
2023-11-13 10:34:33

Quick response, thanks.
2023-11-12 18:35:48

The response time when logging tickets on the portal is amazing. Very efficient the only thing that holds things up is me!
2023-11-10 21:27:56

Amazing! So quick. Thanks so much.
2023-11-10 11:43:58

Speedy response thank you
2023-11-09 12:25:41

Curtis is one of the best technicians i have ever come across. His knowledge and professionalism is outstanding. The support at Primary ICT is outstanding, without limit and they always go the extra mile.
2023-11-08 11:25:38

Speedy response, thank you!
2023-11-01 12:34:39

Thank you for all your help so far
2023-10-30 20:22:21

Hello, this fix took more than one attempt, but it is now working well.
2023-10-27 08:32:07

Cheers Adam
2023-10-20 11:45:17

This was actioned quickly.
2023-10-20 08:29:48

John... you were a star! (Even brought my teacher laptop back to me! ;-) Thank you for showing me the route the children follow and the potential deployment of the drive shortcut option. Great service... hopefully you are due for a pay rise very soon. Kind regards Dins.
2023-10-17 21:34:08

Fab response... friendly service... very happy.
2023-10-17 21:30:51

Thank you for sorting so quickly Adam.
2023-10-16 15:16:14